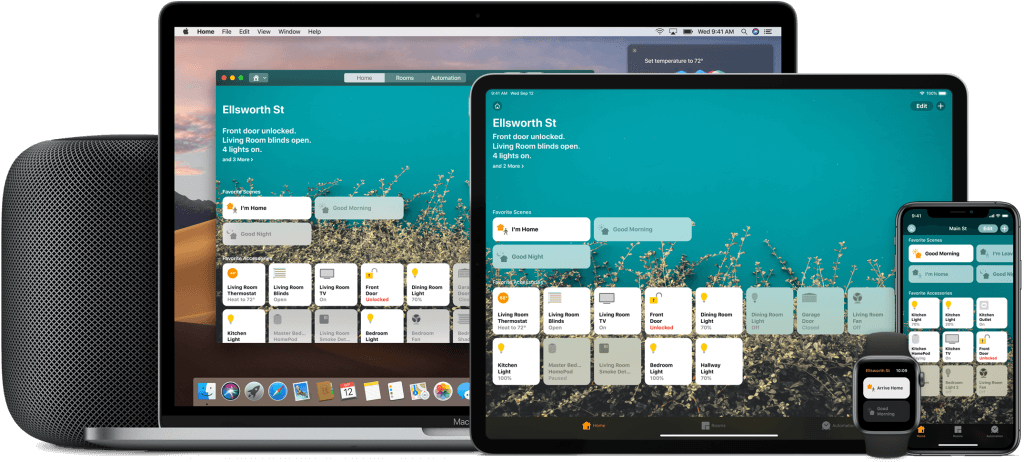 HomeKit is a Smart Home system developed by Apple, which is closely bound with Apple's voice assistant Siri. The user can control various smart home devices compatible with HomeKit through Siri or Home App on Apple.
Although HomeKit started early, the development of whole system lags behind other main competitors, especially on the devices supported by HomeKit compared to the ones supported by Google and Amazon. As of July 2020, Apple lists 740 HomeKit compatible devices from over 100 manufacturers, compared to 30,000, from 3,500 manufacturers for Google and 100,000 from 9500 manufacturers for Amazon. The products that act as a control center like Speaker/Display are also not as abundant as Google and Amazon. Homepod can be taken as a specially developed Speaker while Apple TV and iPad have to make up for Smart Display's shortcomings. This strategy is a double-edged sword. Because it is really convenient for old users do not need to buy new devices, but new users have to purchase an Apple TV or iPad which is much more expensive than Google or Amazon Display.
History
Back in September 2014 at the Apple special event, HomeKit was announced with iOS8 as a built-in feature of the system. At that time, people can only control HomeKit by Siri. It wasn't until the September 2016 Apple Special Event that HomeKit had a Home App with a user interface and was installed as the default system app starting with iOS 10.
HomeKit Ecosystem
To build a HomeKit-based and fully functional smart home system, there must be at least one Apple device as a control hub. Apple phone or iPad can also be used to locally control smart devices within the same home network if there is no control hub device. But it cannot be controlled remotely via the Internet, nor can it be set up for automation.
Home information is automatically synced to iCloud besides being saved to the device. Existing Home information can also be automatically synced through logging in to the same Apple account if you use new iPhone or iPad.
Setup
https://support.apple.com/en-us/HT207057
User Interface
There are two ways for users to control HomeKit: one is use Siri as voice control, and the other is the Home App with an operating interface. Voice control by Siri can be available in the case of a home control hub device or an operating device networked, otherwise it can only be managed through the Home App.
By Voice – Siri
Apple device is equipped with Siri after 2012. As a proprietary voice assistant for Apple devices, Siri can only be used on Apple devices and supports multiple languages including some dialects.
https://en.wikipedia.org/wiki/Siri
By Operation User Interface – Home App
A user can create mutiple Homes in Home App, multiple Rooms under Home, and add devices via HomeKit code (the eight-digit on the device). Each Home can have only one Owner and the Owner can add, modify, and delete devices. The owner can share multiple family members/Apple IDs with the control of Home and they can control the device, but cannot modify it.
Generally, the interface of Home App is simple and it is easy to use, but its function is not as rich as that of Amazon and Google.
https://www.apple.com/ios/home/
Create home automations with the Home app
Privately monitor home activities with HomeKit Secure Video
Secure your home network with HomeKit routers
Privacy
Privacy is a major concern when using online Home Smart system. After all, Speaker and Cam are constantly observing our homes, and these electronic data are transmitted to the service provider, so we have to know how the manufacturer can ensure our data will not be leaked or misused.
Country availability
Apple HomeKit is relatively open and can be used in almost all countries without obvious country restrictions, but some products such as Apple TV are not sold and supported worldwide.
Hardware product
According to the functional roles of HomeKit ecosystem, hardware devices can be divided into three types, namely central control devices, user terminal devices, and functional devices.
Hub device
The control hub device is the core of the entire HomeKit system and HomeKit automation and remote control functions rely on it. Optional devices are only iPad (iOS 10 and later), the fourth generation and later AppleTV, HomePod, and the specific use of these devices are slightly different.
For iPad to act as a home hub, it must remain in your home, powered, and connected to your home Wi-Fi network. IPad, as the most fully functional Home Hub device, can control Home App by Siri or on the screen without relying on other devices.
Apple TV itself is just a TV box with an additional device for display, and the role of Home Hub can only be considered an additional feature of Apple TV. You can use Siri with the Siri Remote, but also can operate the Home App on the TV.
As a smart speaker, HomePod can be managed through Siri for general operation. If to do slightly complex management work, it could be easier to operate on the iPhone.
HomeKit Secure video requires a HomePod, Apple TV, or iPad running as a home hub.
https://www.apple.com/apple-tv-4k/
https://www.apple.com/homepod/
Operation terminal Device
Main products of Apple like iPhone, iPad, Apple Watch, Mac can be used as user terminal devices to manage the entire HomeKit smart home system, control single smart device, and set up automation. Because of Apple's system closure policy, Non-Apple device cannot be used as a control hub or user terminal.
Third-party Functional Device
Functional device, as its name implies, refers to a device or machine dedicated to a specific task, such as thermostats, lamps, washing machines, refrigerators, etc. Apple has a HomeKit certification process and only certificated products are licensed to use the HomeKit trademark. Each HomeKit certified product will have a HomeKit setup code which can be scanned through Home App to add products.Over 100 brands worldwide are committed to providing accessories that are compatible with the HomeKit framework. Because of Apple HomeKit closure policy and certification strategy, there are not many products to support HomeKit system compared to Amazon and Google system.
https://www.apple.com/shop/accessories/all/homekit
https://www.apple.com/ios/home/accessories/
Service
Apple also has a number of paid services compatibles with its hardware products, mainly including cloud storage and various content services for monthly payment. For multiple services, purchasing a service package of Apple One is less cost than purchasing them separately.
Requires a 200GB or 2TB iCloud storage plan and a home hub such as Apple TV, HomePod, or iPad.
iCloud storage plan
If your home system relies deeply on Apple products, a storage plan is a necessity, and the free 5GB of storage is far from sufficient to everyday needs, such as Footage from HomeKit Secure Video.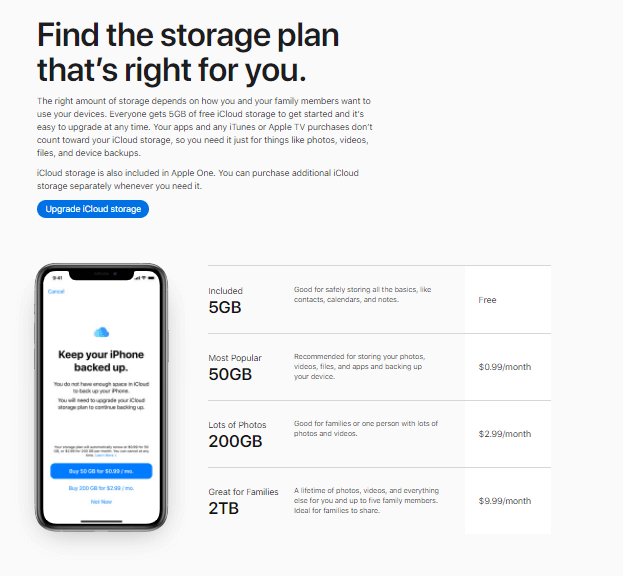 Apple TV Plus
You can get 1 year of Apple TV for free after Apple device purchased. Get a free7-day trial by month or a free one-month trial with Apple One package.
https://www.apple.com/apple-tv-plus/

Apple News
News package, with a one-month free trial.
https://www.apple.com/apple-news/

Apple Music
Music is divided into three grades with the same content of student and personal grade, but the price for students is cheaper, while family grade is more abundant that can be shared to 6 members.
https://www.apple.com/apple-music/

Apple Arcade
It is similar to a game platform membership. You can play all the games on this platform for free, when purchasing this service without being harassed by AD and extra payment, and 6 accounts can be shared for use.
https://www.apple.com/apple-arcade/

Apple Fitness Plus
The service in sports can be used for 3 months free after purchasing the Apple Watch. And it can be shared with 5 other accounts for use.
https://www.apple.com/apple-fitness-plus/

Apple One
Apple service bundles have 3 different types: individual, family and premier.
https://www.apple.com/apple-one/


Resources
Apple YouTube cannel
https://www.youtube.com/user/Apple
Apple HomeKit
https://www.apple.com/ios/home/
Siri
Airplay
https://www.apple.com/airplay/
https://developer.apple.com/homekit/
HomePod