You finally got the new WiFi thermostat you always wanted, so now you can't wait to throw away the old one. There might be a problem about wiring a thermostat!
Before you start spending more money than you should by calling an electrician, we'll teach you the simple steps to do it. Just make sure you have all the tools and materials that you need, don't worry, you probably already have them in your toolbox.
Before you start working: Study this guide of wire label/color code
It is really important that you understand perfectly the wire label and conventional color meanings: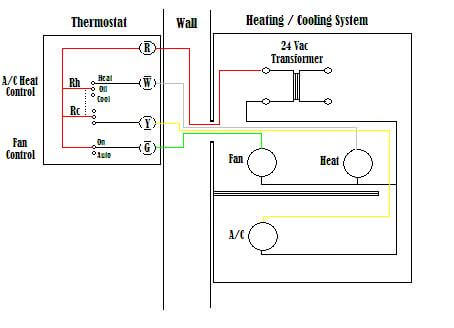 Basic or common connection points
| | | | |
| --- | --- | --- | --- |
| Terminal | Color | Signal * Type | Description |
| C | Blue/Black | 24 Vac Common | Common side of 24 Vac Transformer, AKA C-wire ② |
| R | Red | 24 Vac Transformer Power | 24V AC Power |
| Rh | Red | 24 Vac For Heat | The Rh terminal is designated for the power for heating ① |
| Rc | Red | 24 Vac for Cool | The Rc terminal is designated for the power for cooling ① |
| Y | Yellow | Switched Power(Cooling) | The Y terminal is for cooling or air conditioning and goes to the compressor relay. |
| W | White | Switched Power(Heating) | The W terminal Signal is for heating. |
| G | Green | Switched Power for Fan | Signal to Turn on Fan(forced Air) |
Heat Pumps / Multiple-Stage Units
| | | | |
| --- | --- | --- | --- |
| Terminal | Color | Signal * Type | Description |
| Y2 | Can Vary | Switched Power (2nd stage Cooling) | 2nd Stage Cooling signal to compressor |
| W2 | Can Vary | Switched Power (2nd stage Heating) | 2nd stage Heating / Sometimes used as Emergency Heat |
| E | Can Vary | Emergency Heat Enable | Dedicated Emergency Heat |
| O | Orange | Reversing Valve | Reversing Dynamics of the Heat Pump |
A FEW THINGS TO KEEP IN MIND:
There are no standards for wire color!
Sometimes the color of the wires may have changed if the person who wired the old thermostat didn't use the standard color-coding.
① Some HVAC systems use two transformers
This means that some thermostats have one transformer for cooling and a second one for heating. In this case, the power from the air conditioning system transformer would go to the thermostat terminal. You can also install a jumper between RC and RH in case that your heating and cooling system are equipped with a single transformer.
②Check out this Basic C-Wire introduction video!
---
Get Started to install
Step 1: Study the installation guide and prepare all the tools you'll need
When you get your new thermostat it is very likely that it comes with a user installation guide (printed or online), read it very carefully and as many times as needed until you have completely understood it.
For installing your new thermostat you will need some basic tools like a screwdriver, nipper pliers, a stripper, some labels, a pencil, insulating tape and maybe some screws. Double check with the installation guide that you have all the tools you´ll need before getting started.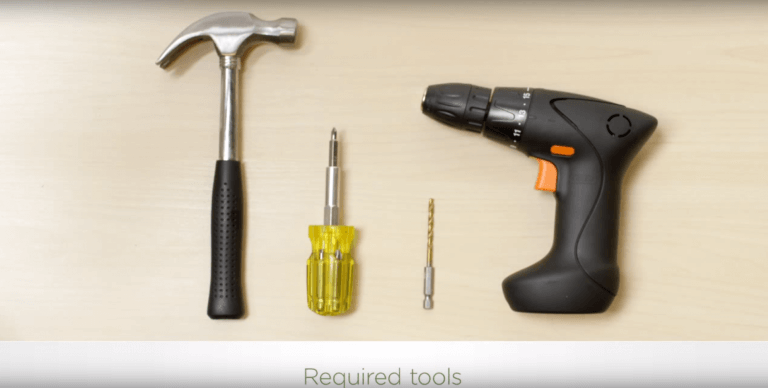 If after studying the user installation guide you don't feel confident enough in order to complete this task, don't take an unnecessary risk and hire a professional that can help you.
Step 2: Turn off the power
Go to your circuit box and turn off the power to your heating and cooling system
Step 3: label the wires
Label each wire with their terminal code since their color may be different from the standard color-coding, this will also help you to identify them better in the future.
If you are replacing an old thermostat with a new one, it will be better for you to take a picture of the existing connections before you remove them in order to have a visual reference that will make the labeling process easier.
Tips:
Secure the wires with tape, adhere them to the wall in order to keep them from falling back while you are labeling them.
Make sure that the bare wire has the correct length for their correspondent terminal on the thermostat
Check out these videos for some basic techniques:
Caution: Older thermostats may contain glass tubes with mercury. Proceed with caution when handling them and ask your local recycling company for the disposal instructions for this material.
Step 4: Mark the position for your thermostat
Place the thermostat on your wall and mark the mounting holes with a pencil, use a level tool to make sure it's well positioned. Once you have your marks straight, drill a hole through them and tap in the wall anchors, pull the wires through and fix the base plate with screws.
Tip: If your old thermostat was bigger than your new one, you can easily cover those undesirable holes with a trim plate that will add a modern touch to your home.  You can also fill those openings with some drywall compound, then sand the wall until its smooth and paint it!
Step 5: Wiring the thermostat
There are so many variations of HVAC that it wouldn't be possible to describe them all in this article. We will talk about the most common types, if your system doesn't resemble the ones talked about here, we suggest you get a professional who will take care of this for you, do not attempt trying to figure it out yourself
5-Wire Thermostat wiring

This is the most common HVAC system, it operates with many central air conditioners that work with an air handler and/or a heat pump/gas furnace. The 5 wires cover R (Red) for 24-volt hot, W (White) for heat, Y (Yellow) for cooling, G (Green) for the fan and Blue for C-Wire (This is a common wire, may come in a different color).

Connect the wires. If you don't have both R and Rc wires, leave a metal jumper between them and connect the R or Rc wire to it.
4-Wire Thermostat wiring

This system is typically found in thermostats that are battery powered or are a heat-only digital thermostat. It uses the same color-coding as the 5-Wire thermostat except they don't have a cooling wire. You'll most likely find a red wire for 24-volt hot (R), a white one for heat (W), a green one for the fan (G) and a common wire in blue or black (Also known as a C-Wire).
3-Wire Thermostat wiring

Commonly found in digital thermostats that are used to control a boiler. It has a red wire for 24-volt hot (R), a white one for the heat (W) and a 24-volt common wire (Also known as a C-Wire).
2-Wire Thermostat
This type of thermostat is most likely a heat only thermostat (digital or non-digital). If it is digital, it may have a battery that powers the thermostat. The two wires it comes with are most likely red for 24-volt hot (R) and white for the heat (W)
Check out this 2-Wire thermostat video!
Note:
In case that you have more than 5 wires, refer to your thermostat user guide or manufacturer website in order to learn how to wire the additional terminals to your thermostat, normally those extra wires are related to a heat pump.

Wiring thermostat without C-Wire
Also known as Common wire, the C-Wire is required to provide constant 24-volt power to the thermostat, most of the smart thermostats, programmable or Wi-Fi connected need this wire in order for a proper installation.
If you don't have one, here are some viable solutions to the problem:
Solution #1: Use an extra wire as a C-Wire
Look for an unused wire and connect it to the terminal, watch this video in order to learn how to do it properly
Solution #2: Substitute a Fan Wire (G) for a C-Wire
If you don't have an extra wire you can use as a C-Wire, connect the G wire to the C terminal on the thermostat, then connect the other wires as usual. Next, go to your furnace and move the wire on the G terminal to the C, then install a short jumper (you can make your own out of 18-gauge wire) from the Y to the G terminal.

Note: If you use this method you won't be able to control the fan
Solution #3: Install a adapter or transformer
If you don't want to lose control over your fan and you don't have an unused wire this is the solution for you!
Before you run and hire a professional to do this, watch the following five-minute video that will show you how simple it is to wire an external transformer to your system, allowing you to fully use your thermostat.
Here are other solutions manufacturers provide to solving this problem
Honeywell
Nest
Ecobee
Emerson Sensi
Step 6: Turn on the power and test the thermostat
First, install the batteries if needed to the thermostat. Then mount it on the wall plate, restore the power and set it up following the instructions on the user manual and you're all done!