For most houses, light bulbs with soft white or daylight should be enough for daily use. So, for a lot of people, spending tens of dollars on a smart bulb will undoubtedly seem like an unnecessary luxury – after all, the light bulb is a consumable product.
If you are intending to swap your standard lighting for smart lights in an economic way, and you happen to have a smart hub, then there are some smart lighting bulbs you shouldn't miss. If you are just starting to think about building a smart lighting system, then you may need to read this smart light solution article first.
Bulb spec Overview
| | | | |
| --- | --- | --- | --- |
| | Sengled Element Classic | Cree Connected | Philips Hue White |
| Protocol | Zigbee | Zigbee | Zigbee |
| weight | 1.88 ounces | 1.98 ounces | 1.6 ounces |
| Size | 4.4*2.4*2.4 inch | 4.4*2.4*2.4 inch | 4.3*2.4*2.4 inch |
| Wattage | 9 | 11.5 | 9.5 |
| Brightness | 800 | 815 lumens | 840 lumens |
| Color temperature | Daylight/Soft white | Daylight/Soft white | Soft white |
| Average Lifespan | 25,000 hrs | 25,000 hrs | 25,000 hrs |
| Dimmable | Y | Y | Y |
| Fitting | E26 | E26 | E26 |
| Bulb type | A19 | A19 | A19 |
| Warrantee | 1 year | 3 years | 2 years |
| environmental parameters | -4 °F to 104 °F | -13 °F to 113 °F | 14 °F to 113 °F |
| Wink | Y | Y | Y*(1) |
| SmartThings | Y | Y | Y*(1) |
| WeMo | N | Y | Y*(1) |
| Echo Plus | Y | Y | Y |
| Echo Show (2nd Gen) | Y | Y | Y |
| Philips Hue Bridge | N*(2) | N*(2) | Y |
*(1) Can't connect directly, need Hue Bridge to connect to hub.
*(2) There was some way to connect third-party Zigbee bulbs to Hue Bridge, but the firmware was updated in late 2016, after which Hue Bridge no longer supports them. 
The Similarities
 Bulb design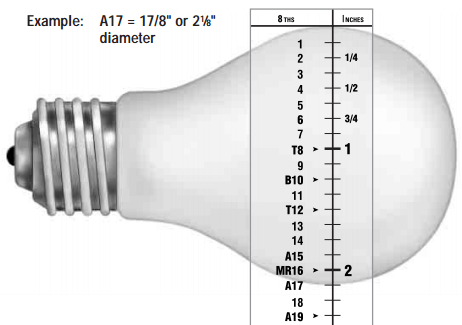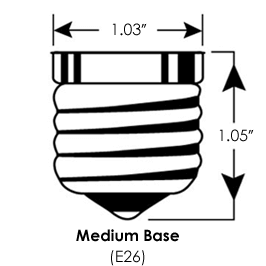 They are general purpose (A19) LED bulbs with a medium screw base (E26). The theoretical lifespan is identical for each brand, and the size and weight of the bulbs are almost the same.
All the bulbs are designed for indoor use. Their materials are not suitable to resist extreme outdoor weather or ingress from solids or liquids. Even inside, too hot or too cold a temperature will cause the bulb to fail.
If you are looking for outdoor bulbs, please refer to another article: Best Smart Outdoor Bulb. Such bulbs have a special weatherproof design with an Ingress Protection(IP) rating.
Installation
Installation is straightforward – just like regular bulbs. Just twist to remove your old bulb and simply twist the smart bulb back into place, remembering to turn off the wired switch first.
Sengled Element Classic installation: https://youtu.be/cJOdE16YcbU
Cree Connected installation: https://creebulb.com/connected
Philips Hue installation: https://youtu.be/aTa26eNlI54

All the bulbs use the Zigbee wireless protocol. Because of that they require a hub to work properly. Once you connect the hub to your router, you can have away-from-home control ability, for as long as internet connection is maintained.
The firmware of the bulbs is updatable, by internet via the connected hub. Sometimes the firmware update is annoying, and may cause a connection-loss problem. So, my personal advice is do not update the bulb firmware unless it is necessary.
The Differences
Although these bulbs are all similar in appearance, they are each different in some way.
Zigbee Hub
Philips Hue White are exclusive smart bulbs. They only work with Hue Bridge or Echo Plus today, and are not supported by third-party Zigbee hubs. While it is technically possible to make Philips Hue White bulbs work with other-brand hubs without Hue Bridge, doing so requires some tech skills that make the exercise a potential waste of time and money for the average consumer.
Sengled Element Classic bulbs not only work with their own brand of hub, they also work with other Zigbee hubs from third-parties, such as the highly recommended options from SmartThings or Wink.
If you plan to use the Sengled hub, perhaps think again. The software is highly unreliable; you can look at the reviews on the app store. There are 3 separate apps and they all have about 2.5/5 rating for a reason. If you get it to work, don't forget your password as it WILL NOT send you a password reset link.
Another thing to mention is that Sengled Element Classic bulbs work with Amazon's Echo Plus, but you will not be able to connect more than 4 without putting them into pairing mode (flip the light switch on 10 times quickly, they should start blinking, shut the light off, click "discover devices" then turn it back on). This will fix that problem 100%.
Cree Connected bulbs will work with major smart hubs like Wink, SmartThings, WeMo, Echo Plus and Echo Show (2nd Gen, which has Zigbee built-in). Currently, Cree does not have its own hub.
Dimmer Switch
Sengled Element Classic and Cree Connected do not work with any dimmer switch, but through Alexa and the app. Philips Hue White can work with the Hue Dimmer Switch.
Color Temperature

Cree Connected and Sengled Element Classic have two types of bulb for different light color: Soft white (2700K) or Daylight (5000K).
The Philips Hue White range only includes one Soft white version, so if you want to use Daylight, then you have to upgrade to Philips Hue White Ambience, at approximately double the price.
Performance
There is a tiny difference between the brightness they can provide, as follows: Philips Hue White (840 lumens)> Cree Connected (815 lumens) > Sengled Element Classic (800 lumens). But if your priority is energy efficiency then consider these output figures: Sengled Element Classic (88.9 lumens per watt)> Philips Hue White (88.4 lumens per watt)> Cree Connected (70.9 lumens per watt).
Sengled Element Classic bulbs do not dim in tiny increments, 1, 2, 3, 4 …5% as do the Phillips Hue, but the bulb is functional, and dims at probably 5% per step.
Only Philips Hue White and Sengled Element Classic got Energy Star certification, Cree Connected is not certified by Energy Star.
Operating Environment
The Sengled Element Classic working operating temperature is between -4 °F to 104 °F (NOT RECOMMENDED FOR OUTDOOR USE in cold areas. In some States it gets below -4F, which may cause approximately 1 in 2 bulbs to fail).
Cree Connected has a much wider temperature range -13 °F to 113 °F. There are some slots on the bulb – I guess for better cooling – but dust or water may get in through the slots too, that will potentially cause a short-out problem.
Philips Hue White is totally unsuitable for extreme-cold areas since its lower operating temperature is only 14 °F, far higher than the other two.
Cost
All those Zigbee bulbs need connected to a hub to work, so if you don't have or don't want a hub, then you may consider LIFX mini white or TP-Link KS100. They are Wi-Fi connected bulbs which not require a hub.
The comparative single bulb costs are: Philips Hue White ($15) =Cree Connected ($15) > Sengled Element Classic ($10). If you require larger quantities of bulbs then look at pack sales or starter kits to achieve a lower price per bulb. For example, a 4-pack of Philips Hue White is $39.9, which represents a significantly reduced $10 per bulb. Beware the price is dynamic, changing in the market every day, and it doesn't include any discount or reward.
Sum up
Philips Hue White
Pros
Cons

Average brightness and energy efficiency.

Work with Amazon Alexa, Google Assistant, HomeKit and Cortana.

Limited hub support: only work with Hue Bridge or Echo Plus.
Conclusion
The Hue White A19 bulb is a good quality product from the extensive Hue product line. If you don't mind the extra cost of a Hue Bridge, then it is the perfect choice for future extensions.
Sengled Element Classic
Pros
Cons

Inexpensive.

Compatible with most hubs (Zigbee built-in).

Sengled hub is unreliable.

Voice control depends on which hub it is connected to.

Conclusion
Sengled Element Classic is an inexpensive choice if you already have a compatible Zigbee hub, but do not use a hub outside of the compatible list, and do not try the Sengled hub.
Cree Connected
Pros
Cons

Compatible with most hubs (Zigbee built-in).

Slots allow little things to get in (flies, dust, etc.).

Low energy efficiency.

Voice control depends on which hub it is connected to.

Conclusion
Cree Connected is not a good option if you want to install it where there are small flies or dust, and its low energy efficiency (compared to the other two) will be a long-term cost.
A little more Thinking
The bulb characteristics aren't the only thing affecting your decision; there are other factors you also need to consider, so I would like to offer some advice to assist you to choose the right one.
If you want to replace a common bulb, check the size of the base first. The new bulb must fit the base – there is no point in replacing both bulb and base.
The size of room: a big room requires lights that provide more lumens (brightness), and vice versa.
Energy Saving: one or two inefficient bulbs may not add too much to electric bills, but if you intend fitting a lot of bulbs for long-term use, then you should take a close look at energy costs.