When it comes to regulating the temperature of your home, the best thermostat is all you need to have.Yes, I am talking about a digital thermostat that is Wi-Fi enabled.
So, why buy a smart thermostat? This digital thermostat has the ability to auto adjust depending on the temperature in your home.Normally, its face is a touchscreen- or digital-enabled.
This kind of thermostat comes with three key advantages.To begin with, they are designed to master your favorite temperature and they can program themselves so that when you are sleeping, they automatically control the temperature.
What does this mean? It means that you are going to save on energy even when you are not around.Another thing is that it provides you with the estimated data usage which enables you to monitor your energy consumption.
Apart from these benefits, it also allows you to regulate your home temperature right from your smartphone. Besides, you don't need to be at home to do this because the technology allows for remote control from wherever you are.These devices also work perfectly with other home products connected such as Amazon Echo.
Benefits of Using Smart Thermostat
This device comes with several benefits which enables it to offer convenience and comfort. These include:
1. Ability to Control Humidity and Temperature From Anywhere

Its convenient Wi-Fi ability provides you reliable and secure connections. If you need to control it when not around your home, then you can do so by downloading this not for sale app from Google Play Store or iTunes.
The app is designed to work in laptops, tablets or smartphones. Some of these smart thermostats work well with your preferred voice control devices such as Apple HomeKit, Google Assistant or Amazon Alexa.
2. Self-Programming
In less than a week of using it in your home, this device program itself according to your temperature preferences. Not only that, it perfectly works with the weather conditions in your area of residence.
Its perfect temperate and schedule settings ensure that your comfort is not interrupted when at home. What's even more interesting is that you can set it once and leave it to regulate itself.
3. Reduced Energy Expenses
It has the ability to detect that you have left the house, and thus adjusts to a suitable Eco Temperature, thus saving energy.
You have the option of customizing the thermostat, like making it warm or cool at night, cozy during the afternoon or just set a weekly program based on workdays and weekend.
This means that you won't have to repeat adjusting the temperature to suit your preference since its customization is a onetime thing unless you need to make new adjustments.
What Does a Smart Thermostat Save You?

Cuts Energy Consumption, Saving You Money
From a research by Energy Star, regulating your home temperature could cost about 900 dollars yearly.Thus by avoiding the unnecessary temperature regulations while you are away is one of the ways to save you some money.For instance, Nest thermostat can save you an amount of money which exceeds its cost in less than two years, according to independent studies.
Extended HVAC System Life
Through automated detections on when this system should be open, you can greatly increase its durability by saving it from damage from overwork.
What to Consider Before Buying a Smart Thermostat

1. Know What You Need in an HVAC System

All temperature regulating systems have three main components;
Source of cooled or warmed air
Means of distribution
Control functionality
Here are some of the questions to answer which will guide you in finding your most preferred thermostat.
What type of fuel does it use? Electric, oil, natural gas or dual fuel?
Multiple- stage or single stage HVAC?
Does it have humidity regulation features?
Does it is a zoned system?
2. What Are Its Wiring RequirementS?

It is important that you know the specs wire that your thermostat requires, to learn about what these wire meaning you can refer to below tables. If you are not certain what type of wiring it uses, you should seek an advice from experts.
Basic or Common Connection Points
| | | | |
| --- | --- | --- | --- |
| Terminal | Color | Signal * Type | Description |
| C | Blue/Black | 24 Vac Common | Common side of 24 Vac Transformer see Diagram below |
| R or V | Red | 24 Vac Transformer Power | Power side of 24 Vac Transformer see Diagram below |
| Rh or 4 | Red | 24 Vac For Heat | 24 Vac Power Before Heat Switch see Diagram below |
| Rc | Red | 24 Vac for Cool | 24 Vac Power Before Cool Switch see Diagram below |
| Y | Yellow | Switched Power(Cooling) | Signal to Turn on Cooling System see Diagram below |
| W | White | Switched Power(Heating) | Signal to Turn on Heating System see Diagram below |
| G | Green | Switched Power for Fan | Signal to Turn on Fan(Forced Air) see Diagram below |
Heat Pumps / Muti-Stage Units
| | | | |
| --- | --- | --- | --- |
| Terminal | Color | Signal * Type | Description |
| Y2 | Can Vary | Switched Power (2nd stage Cooling) | 2nd Stage Cooling signal to the compressor |
| W2 | Can Vary | Switched Power (2nd stage Heating) | 2nd stage Heating / Sometimes used as Emergency Heat |
| E | Can Vary | Emergency Heat Enable | Dedicated Emergency Heat |
| 0 | Orange | Reversing Valve | Reversing Dynamics of the Heat Pump |
Thermostat wire diagram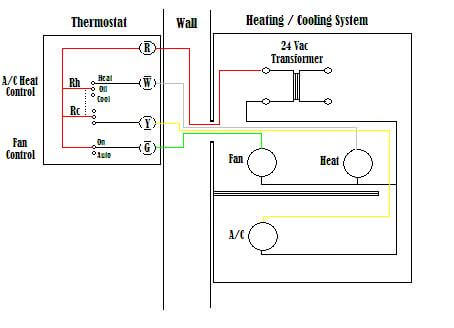 3. Wi-Fi Signal Reliability

Since a thermostat is Wi-Fi dependent, always ensure that you can get a reliable signal in its location. However, if it's not connected to the Wi-Fi, the thermostat will still work like a normal thermostat.
4. PE & G Rebate

If you purchase a smart thermostat with ENERGY STAR qualification, then you might receive a 50 dollar rebate through comprehensive PE & G online claim upon your purchase.
You can begin by checking the current rebate criterion on PG & E.
Having said that, let's look at some of the top best smart thermostats:
Top pick—Nest Thermostat E
This thermostat's unique appearance compliments its beauty. Saving energy with this device is easy since it automatically turns itself down when not in use.

Its energy-saving capability is estimated to cut your cooling bills by 15% and the heating bills by 10% – 12%.
According to usual energy costs, the savings figure amounts to between 135 dollars and 145 dollars yearly.
What is even interesting about this device is that you can regulate the temperature regardless of your location.
Unique Features
Remote control using your laptop, tablet or phone – This enables you to be in control of your home regardless of your location.
Monitor your energy consumption – With energy consumption history, you are in a better position to tracking down how you use it, thereby enabling you to know where to adjust.
Diagnostic tools – It is thus able to detect problems that might be affecting its performance which makes fixing the easy.
Availability of family accounts – Any family member can use its app thus if you can't access your phone, you can use one of the member's phone to control your home.
Simple start option – Its simple schedule is easy to use, you can adjust it later. It does not require experience to use it.]
Auto switch-off – This feature is quite useful since when you are not around it detects and turns itself down. This enables you to avoid unnecessary energy consumption when the room is out of occupancy.
Pros and Cons
Pros
Reasonable price thus most people can afford to buy and maintain it.
Nest temperature sensor supported.
Stylish design which makes its appearance quite attractive.
Supports Alexa and Google Home, also including IFTTT.
Cons
Might not work with several HVAC systems.
Its frosted display could be hard to read.
Don't work with Apple HomeKit.
Best Voice-Enabled – ECOBEE 4
This thermostat is accompanied with a room sensor which is useful in managing the cold and hot spots. Upon installation of this thermostat in your preferred room, it has the ability to detect the occupancy and the room's temperature.Also, it automatically enables a suitable mode that conserves energy upon detecting that no one is around the room.

It is also designed to perfectly work perfectly with Alexa; what you only need to do is to instruct it and watch it respond, it has the ability to hear your voice from anywhere in the room.
Unique Features
Designed with room sensors – Helps in managing the cold and hot spots in your home.
It is constructed with Amazon Alexa Voice Device – Which enables it to listen and detect your voice.
You can request it to read news, order groceries among others.
Pros and Cons
Pros
Room sensor Supported.
Supports Amazon Alexa, Google Assistant, Apple HomeKit, Samsung Smartthings, IFTTT, and more.
It has an appealing sleek design,
Cons
Its temperature slider could be hard to use,
Install can be complicated if no C wire.
The wireless connection only works with 2.4 G WiFi.
Best sale—Nest Learning Thermostat
This thermostat has the ability to master your temperature preference to help it design a program that suits you. The learning process takes just a few days.

It is also designed to provide you with an estimate of your data usage through a monthly home report thus enabling you to know where to adjust your energy consumption.

With this thermostat, you can greatly reduce your spending on energy through avoiding the unnecessary energy consumptions like when you are not around your home.
It is remote control-enabled through your laptop, tablet or smartphone, thus accessing it from anywhere is possible and accessing it is not limited to a single device.
Energy report feature – This enables you to track your energy consumption patterns, thus adjusting to minimize consumption on those parts which are high.
Has farsight property that illuminates to display the time, whether or temperature. You have the option of selecting an analog clock appearance or a digital one.
This 3rd generation Nest Learning Thermostat is designed with a sharp and big display, it also contains new rings.
Family accounts – Enables access by family members.
Home security feature – Apart from regulating your home temperature, this thermostat will alert you regarding any potential dangers such as when the temperatures are very low which might burst the pipes. Also, if your furnace is heating hard, this device will convey alerts to your remote device.
Pros and Cons
Pros
Nest temperature sensor supported.
Supports Amazon Alexa, Google Assistant, Samsung Smartthings and IFTTTT.
Learning mode can adjust your temperature schedule automatically.
The wireless connection can work with 2.4 GHz or 5 GHz WiFi.
Unique sleek design.
Cons
Nest temperature sensor doesn't have motion detectability.
Don't work with Apple HomeKit.
Best Value-Honeywell Lyric T5(RCHT8610WF2006)
If you are looking forward to buying an affordable thermostat that enables you to use your phone in regulating the room temperature, then this thermostat has to be the one.
What's even admirable about this thermostat is its simple and easy installation process and also its handful desirable features such as Alexa Voice Control and Siri.
It also has the ability to work with other devices through the Apple HomeKit, not to mention that it also supports geofencing tools and can switch to away or home mode, which depends on where you are.
Unique Features

Considerably enough size – Its size allows you to read its display anywhere in your room.
Touch screen enabled – Apart from its brightness and quick responsiveness, it has the ability to display the room temperature and the current time. However, you might need to tap to see these displays.
Pros and Cons
Pros

Its price is most affordable.
Uses geofencing.
It supports both Alexa voice command and Siri,
Cons

It does not detect humidity and motion,
Does not provide users with their usage report,
Does not currently support IFTTT.
Other things you should be aware
Best Energy Saving Practices

The use of a thermostat to control the temperature in your room could be the best practice since it reduces energy consumption and thus saving you money.
However, utilization of smart thermostats to cut energy expenses is not the only means of attaining a comfortable and energy efficient home.
There are several factors that might affect your HVAC system from not working correctly such as ductwork issues, dirty filters or even having an HVAC system that is not energy efficient.
So, how then do you ensure you have an energy efficient system?
First, you need to ensure you know the specific features of any thermostat product before purchasing it. This involves doing some basic research, of which we are providing you with this review, saving you the hassle.
You also need to regularly check them to ensure that they are free from any real issues if there is one you need to fix it or seek help from experts if you cannot do it by yourself.This way, your home will always be safe and comfortable in the most cost-effective way.
The Bottom Line
It is evident that smart thermostats offer a new way of regulating temperatures at homes, with a great degree of control, insight and convenience.
Being smart largely involves being able to regulate your temperature settings in such a way that will reduce your energy expenses, this results in an even more comfortable stay at home.
Any efficient smart thermostat should have quick and easy installation process and it should be able to remember your preferences.
Among its benefits is that it gives you the opportunity to manage your home temperature in certain patterns such as away-from-home, daily schedule and also including automatic regulation of temperature.