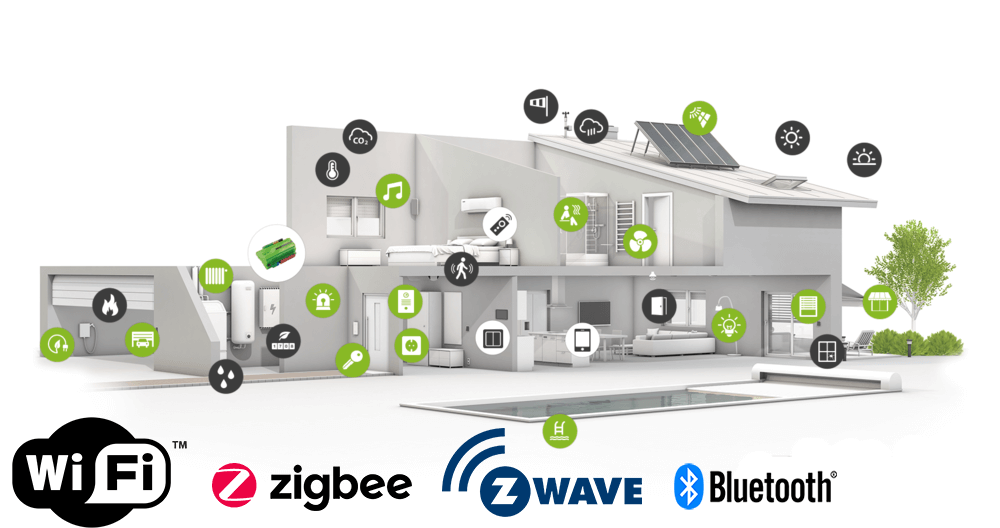 The foundation of a smart home is a high-speed, reliable, secure wireless network. The quality of that network will affect the performance of your smart devices in one way or another. The first step in installing a smart home device or smart system is to check your wireless network to ensure that your device can communicate with the internet in the area you want to install it. Your WiFi signal might not reach all areas of your house. Also, many families are still using traditional routers. With the increase of data-heavy activities, such as media streaming and network gaming, your router's bandwidth might not be able to handle the addition of a smart device. Check your current usage and the device's requirements before installing a new component.
---
Types of Wireless Networks
We use many different types of wireless networks today. We use some for low-rate and short-range data transfer with low energy costs. These include WiFi, Zigbee, Bluetooth, and Z-Wave. We use other wireless network types for high-rate data transfers with high energy costs. If you haven't heard of some of those WiFi network types, don't' worry. We'll explain.
WiFi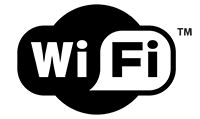 WiFi, or W-iFi, is a technology for connecting devices together and for connecting them to the internet. It's very common tech to build our home wireless network based on IEEE 802.11 protocol.  
Usage
Devices that can use WiFi technology include laptops, video-game consoles, smartphones and tablets, digital cameras, smart TVs, digital audio players, and modern printers. WiFi compatible devices can connect to the internet via one central access. Such an access point (or hotspot) has a range of about 20 meters (66 feet) indoors and a greater range outdoors. Hotspot coverage can be as small as a single room with walls that block radio waves, or as large as many square kilometers achieved by using multiple overlapping access points.
Security
WiFi most commonly uses radio frequencies. You can set up a password for your WiFi network, but anyone within range can attempt to access the network. Because of this, WiFi is more vulnerable to attack (called eavesdropping) than wired networks. WiFi Protected Access is a family of technologies created to protect information moving across WiFi networks. It includes solutions both for personal and enterprise networks. The security features of WiFi Protected Access constantly evolve to include stronger protections and new security practices as the security landscape changes.
Bluetooth

Bluetooth is a wireless technology for transferring data over short distances. You can use Bluetooth networking for connecting your laptop, smartphone, speakers, and wireless headphones or headset across short distances. New Bluetooth standard also support mesh networking that extend the Bluetooth coverage range,so Bluetooth mesh has the chance to compete with Zigbee and Z-Wave, though it's far too early to make an accurate prediction. It should be able to work with any device that has Bluetooth 4.0 LE, though adoption depends on whether or not device makers release an update for their gadgets.  
Zigbee

ZigBee is for high-level communications. We use it to create personal area networks with small, low-power digital radios, such as for home automation and other low-power low-bandwidth needs. A typical example of something using Zigbee is the Philips Hue light. ZigBee is for low-power, low data rate, and close-proximity (i.e., personal area) wireless networks.
Z-Wave

Z-Wave is a type of wireless network used primarily for home automation. It is a mesh network (we'll talk more about mesh networks below) using low-energy radio waves to communicate from appliance to appliance. It allows you to control your appliances and other devices wirelessly and remotely. You can use it for lighting control, security systems, thermostats, windows, locks, swimming pools, and garage door openers. Like other protocols and systems aimed at the home and office automation market, you can control a Z-Wave automation system from a wireless key fob, a wall-mounted keypad, or through smartphones, tablets, or computers. You'll just need a Z-Wave gateway or central control device serving as both the hub controller and portal to the outside.
Current development
It also allows you to use smart devices made by different manufacturers as long as they use Z-Wave. On May 2017, there were over 1,700 Z-Wave products. As of April 18, 2018, there were over 2,400 Z-Wave products. Industry experts expect that number to keep growing.
WiFi vs Z-Wave vs Zigbee vs Bluetooth
| | | | | |
| --- | --- | --- | --- | --- |
| | WiFi | Z-Wave | ZigBee | Bluetooth |
| Operating range per Node | 150 feet | 100 feet | 35 feet | 30 feet |
| Max no. devices | 255 | 232 | 65,000 | 32,000 |
| Data rate | up to 1300 Mbps (802.11 ac) | 9.6-100 kbps | 40-250 kbps | 1 to 3 Mbps |
| Radio Frequency | 2.4GHz/5GHz | 908/916 MHz (U.S.) | 915 MHz/2.4 GHz | 2.4 GHz |
| Energy Cost |  High | Low | Low | Low |
| Network type | Mesh/Star | Mesh | Mesh | Mesh |
| Needs hub? | No | Yes | Yes | Yes |
---
Get Started to Enhance Your Network
We are only discussing WiFi network here because most of non-WiFi products use Hub, Bridge, or Gateway (whatever the manufacturer calls it) to transfer their signal into a WiFi signal. There are two options to enhance your WiFi network. One is to build a whole home mesh network, while the other is to extend your wireless network range by adding an extender. Let's explain the details of both, so you can decide which one is better for your home.
Mesh Network vs. Star Network

The two might sound similar, and that's because they are, but there are clear advantages and disadvantages to using one over another.
Star Network – with WiFi Range Extender
You can consider a wireless range extender to be an in-place upgrade because all you have to do is attach the extender to your existing network to broaden the WiFi signal and extend the range. Here are the advantages of doing so.
Great if your house isn't very big

Inexpensive when compared to mesh WiFi systems

You can still use your existing router
However, there are some disadvantages to WiFi extenders.
Aren't very easy to configure

Might not be as smooth to use throughout the house

Whole network will crash if the centered router is not working.
Mesh Network – with Mesh Node device
A mesh network is one that includes having separate hubs placed around the house that communicate with each other to provide WiFi within range of each of the hubs. Mesh devices are useful because you can purchase a few of them at once, and as long as the hubs are close enough to each other to communicate, each of them can provide a full WiFi signal in each room where you place them. The advantages include the following.
Perfect for larger homes

Simple to setup

Provide easy central management

Each node acts more like a separate router than an extender
But keep in mind that mesh networks also have disadvantages.
Tend to be much more expensive than extenders

Requires you to use multiple node around the house
---
Disclosure
There's a huge difference in price between a wireless extender and a mesh system WiFi. In short, if you have a limited budget, you might be stuck with purchasing an extender. A good WiFi extender might cost as little as $50, while a mesh WiFi system can set you back as much as $300. Other than the cost, a mesh network is very often the best way to go because it's almost guaranteed that a quality system can provide WiFi for almost any size of home. However, it's also easy for a mesh system to be more than you need in a smaller home.
---
Notation:
[1].The term "AC" followed by a number like AC3200.
what is the "AC" means?
When you purchase a modern wireless router, you will see the term "AC" followed by a number somewhere in its name. AC means that the router has support for the latest 802.11ac networking standard, which offers fast WiFi network connections on the 5GHz radio frequency.
what is the number means?
The number that comes after AC represents the maximum theoretical bandwidth of the router. 1200 means 1200 Megabytes per second (Mbps), 1900 means 1900 Mbps, 3200 means 3200 Mbps, and so on. You'll want to take note of these numbers when deciding how much bandwidth you need for your WiFi network.
What is the "AC3200" means?
When reading AC3200 in the name of a router, it means that you are dealing with a WiFi router that offers fast wireless networks using the 802.11ac standard, with a total maximum theoretical bandwidth of 3200 Mbps. You might be tempted to believe that an AC3200 router provides a wireless network that offer WiFi speed up to 3200 Mbps. That would be amazing, but, unfortunately, it doesn't. The reality is that this naming convention is not that useful for making a purchasing decision.
[2].Transfer Rate & Transfer Speed
Transfer Rate (Link Rate) is the maximum speed that data can move across a wireless link between a wireless device and a wireless router. User activities, such as file transfers and web content browsing happen at the application layer. The rate obtained at the application layer will be much lower than the physical layer rate. In fact, a link rate of "300 Mbps" usually corresponds to 50 to 90 Mbps speed on the TCP/UDP layer.