With a smart thermostat, you can make the most of your heating system without wasting money or energy. Today I want to compare the Lyric T5 Wi-Fi Thermostat (released Oct 2017) with its upgraded version, the T5+ Wi-Fi Thermostat (released Jun 2018), to determine if it is worth buying.
Product info
Product name
Lyric T5 Wi-Fi Thermostat
Lyric T5+ Wi-Fi Thermostat
Weight
9.6 ounces
1 pound
Dimensions (W*D*H)
4 x 4 x 1.2 inches
4.1 x 4.1 x 1.1 inches
Color
Black and Silver
Black and Dark grey
Batteries Required?
No
No
Touch-screen display?
Yes
Yes
Price
$136.71 (Amazon)
$114.9 (Amazon)
Model#
RCHT8610WF2006/W
RCHT8612WF2005/W
MPN
RCHT8610WF
RCHT8612WF
Included in your box
Screws and anchors
Screws and anchors
Quick Install Guide
Quick Install Guide
UWP Mounting System (UWP)
UWP Mounting System (UWP)
Lyric T5 Wi-Fi Thermostat
C-Wire Power Adapter
T5+ Wi-Fi Thermostat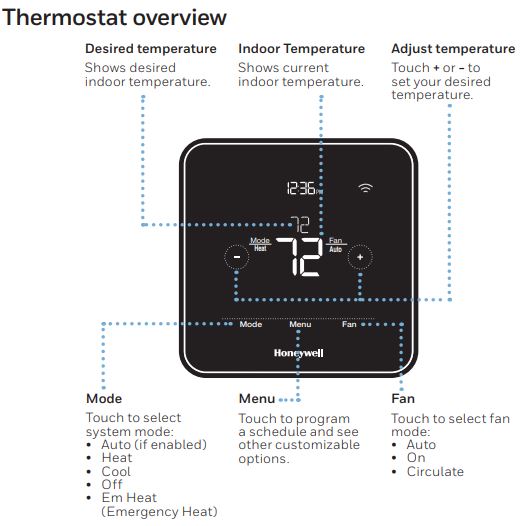 Similarities
Easy to Install
Both thermostats are very easy to install, but you need some tools and to follow steps before the installation.
Prepare tools for installation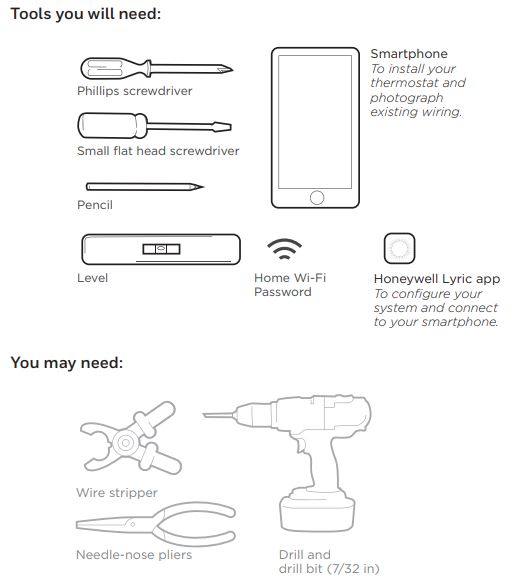 CAUTIONS
ELECTRICAL HAZARD
It can cause electrical shock or equipment damage, please disconnect power before beginning installation.
EQUIPMENT DAMAGE HAZARD
To prevent equipment damage, avoid cycling the compressor quickly.
MERCURY NOTICE
If this product is replacing a control that contains mercury in a sealed tube, do not place the old
control in the trash. Contact your local waste management authority for instructions regarding recycling and proper disposal.
Both thermostats are compatible with 24V HVAC (heating, conditioning) systems, which are the most common types of heating systems in the US. They are also compatible with most single-stage/multi-stage conventional and heat pump heating/cooling systems.
But neither thermostat can work with electric baseboard heat (120-240V) or millivolt systems. Likewise, they do not support Universal Input (S terminals) for indoor/outdoor sensors and Universal Relay (U terminals) for ventilation.
You can work through this free Honeywell compatibility checker https://www.honeywellhome.com/en/general-pages/wi-fi-programmable-thermostat-home-compatibility to guarantee that your thermostat will work in your home.
Removing your old thermostat

Make sure there are no 120/240V wires
Do you have thick black wires with wire nuts? Is your thermostat 120V or higher?
If you answered yes to either of these questions, you have a line voltage system and the Lyric thermostat will not work.
If you are unsure, visit: yourhome.honeywell.com/support
Take a picture of how your wiring looks right now
Be sure to include the letters next to the terminals where the wires are inserted, this will be a helpful reference when wiring your Lyric thermostat. If the color of your wires has faded or if two terminals have the same wire color, use the wire labels provided in the package to label each wire.

It may look like a small staple or even a colored wire and must be removed before continuing because neither T5 thermostat or T5+ thermostat need jumpers. You can use a screwdriver to release from terminal jumpers.

After removed the jumpers, you need to check your wires because S and U terminals are not supported with these two thermostats.  Visit yourhome.honeywell.com/support to find out if the Lyric
thermostats will work for you.
Disconnect the wires and remove the old wall plate
Use a screwdriver to release wires from terminals, you can wrap the wires around a pencil to prevent wires from falling back into the wall. To prevent wires from falling back into the wall, wrap the wires around a pencil.

You can start to install your thermostat when the above steps are complete. Refer to the Quick Install Guide for more details.
Remote control
A smart home contains lots of devices that connect to the internet and can be controlled remotely via apps on smartphones. You can control both the Lyric T5 Wi-Fi thermostat and the T5+ Wi-Fi thermostat using the Lyric app.
Connecting to a Wi-Fi network
To configure and control your thermostat remotely, the thermostat needs to be connected to the Lyric app through your home's Wi-Fi network. Follow the simple steps below to get connected.
Make sure your smartphone or tablet is connected to a 2.4 GHz Wi-Fi signal.
At the thermostat, press and hold the indoor temperature in the center of the screen for 5 seconds until the screen changes.

Download the Lyric app from the App Store or Google Play, if you haven't already done so.

Wi-Fi connection status
The thermostat's Wi-Fi connection status is located in the upper-right corner of the screen.

How to use your Honeywell
The Lyric app allows you to use your smartphone or tablet to monitor and control your heating anytime, anywhere. Interested in more Lyric products? Visit yourhome.honeywell.com to learn about all available products connected by the Honeywell Lyric App.

SMART CONTROLS
Scheduling
The Lyric T5 and T5+ Wi-Fi thermostats offer flexible scheduling options that include:
Location-based temperature control
This option can only be activated using the Lyric app. Location-based temperature control uses technology and your smartphone's GPS location to automatically adjust your thermostat as you come and go. When you leave the boundary, the thermostat will change to your preferred Away temperature, and when you enter the boundary, the thermostat will change to your preferred Home temperature. For obvious reasons this feature is also called "HOME/AWAY".
Adds a Sleep period location-based temperature control.
With time-based scheduling, you can program your thermostat to follow a predictable schedule based on time of day or day of the week via the Lyric app. Here are the programming options:
Every day: (Mon-Sun) has the same schedule
Weekday & Weekend: Weekdays (Mon-Fri) have the same schedule and weekends (Sat-Sun) have the same schedule
Individual Days: Each day has a different schedule.
There are also four adjustable periods per day: Wake, Away, Home and Sleep:

No scheduling means you can turn off scheduling and control the temperature manually. 
On the thermostat home screen, you'll be able to see what kind of schedule is currently running, as well as which schedule period you're currently in (Wake, Away, Home or Sleep).

Smart integration
Another important quality of a smart gadget is that they interact with other smart gadgets, the Lyric T5 and T5+ Wi-Fi thermostats are compatible with Echo products, so you can control them by saying "Alexa, set my thermostat to 72 degrees".
They can also be controlled by Apple HomeKit. Like the Amazon Echo devices, HomeKit is "voice activated" but unlike the Amazon system you do not need an interactive speaker to make it work. Instead, you just need to speak to "Siri".
Up until the coming of the Amazon Echo, two of the most popular smart-home systems were Wink and SmartThings. Surprisingly, both thermostats will not work with either of them!
Other COMPATIBILITY
Wi-Fi Communication
2.4 GHz range, 802.11 b/g/n home wireless router
Temperature Ranges
Adjustable Heat Temperature Range Setting: 40-90 °F (4.5-32.0 °C)
Adjustable Cool Temperature Range Setting: 50-99 °F (10.0-37.0 °C)
Temperature Sensor Accuracy
± 1.5 °F at 70 °F (0.85 °C at 21.0 °C)
Electrical Ratings

Power Consumption
Typical (Backlight on, Wi-Fi on): 1.0VA
Maximum (Backlight on, Wi-Fi installation): 1.5VA
Smart alert
The thermostats come with a set of Smart Alerts that help keep your heating and cooling system running correctly and efficiently.

You'll get reminders when it's time to change the filter.

Energy Star Certified
Energy Star Certified means you can save money on your energy bills, and if you are lucky you can get some rebate from your energy company for using an energy-saving program. For more details refer to the Energy Star website.
Differences
Power
The Honeywell Lyric T5 Wi-Fi Thermostat requires a C wire which can be connected to a heating and cooling system (e.g. furnace), but the Lyric T5+ has a C-Wire Power Adapter included to provide power if needed.
Smart integration
The T5+ is compatible with Google Home while T5 is not.
 Limitations for both thermostats
You must use a 2.4 GHz range, 802.11 b/g/n home wireless router. The thermostats will not work with 5.0 or a router that combines the names of the 2.4 and 5.0 networks. Honeywell also states you cannot use an extender; there is no option for an ethernet wire either.
During the initial set up only, you must turn on airplane mode on your phone because it will interfere with the connection process if you don't. Then connect to the thermostat's Wi-Fi, then connect to your 2.4 GHz Wi-Fi, then it should work. I have found that if you haven't connected to the 2.4 GHz network previously, it won't show up. You need to connect to it on your phone`s Wi-Fi, then connect to the Lyric, then it should show up and you can enter the password for the Wi-Fi, then it ought to connect.
Unfortunately, neither of these thermostats will work with any HVAC add-ons or accessories, such as humidifiers or dehumidifiers.
Incompatible with Google Wi-Fi, these two thermostats will not connect to Google Wi-Fi. Both units will only work with a dedicated (unambiguous) 2.4 GHz Wi-Fi network. They will not work with any 5 GHz networks or Google Wi-Fi's combined network.
Which one is better?
T5+ is an upgraded version of the original T5. There is not much improvement, but T5+ is more practical to install (C wire) and control by voice (works with Google Assistant). So, when choosing between T5 and T5+, the T5+ is a much better option. If you already have a Lyric T5, then you don't have to upgrade it, unless you want to use Google Assistant to control your thermostat.