Mesh Wi-Fi and smart home Hub All-in-One Solution
If you are suffering a weak Wi-Fi or Zigbee signal in some part of your house, and the connection of the device there is unreliable, then a mesh network hub can help you out.
A mesh network hub is a mesh router and smart-home hub all-in-one product. It can work like a mesh Wi-Fi router that will provide you with a seamless Wi-Fi network, covering your entire home. More than that, it works as a smart-home hub, connecting and controlling other smart devices in your home. Unlike a traditional smart-home hub, it uses a mesh network for smart-home wireless communications like Zigbee, Z-Wave and Bluetooth Low Energy (BLE).
Here I would like to introduce two mesh network hubs: SmartThings Wi-Fi from Samsung, and Deco M9 Plus from TP-Link.
Overview
SmartThings Wi-Fi isn't the first SmartThings mesh network hub from Samsung. Back in 2017 there was another product called SmartThings "Connect Home", which had a great concept but poor network performance. After that failure, Samsung have had a second attempt by releasing SmartThings Wi-Fi. The two products have very similar looks, but they have some different design features. So, take a close look at the manufacturer PART# to avoid the common mistake of mixing up SmartThings Connect Home with SmartThings Wi-Fi.
Deco M9 Plus is the latest product in the Deco range from TP-Link. The previous product – Deco M5 – only provides a mesh Wi-Fi network. Deco M9 Plus supports other wireless communication protocols like Zigbee and BLE. Deco M9 Plus is the first mesh network hub by TP-link.
Specification Comparsion table
SmartThings Wi-Fi
Deco M9 Plus
MFR PART#

ET-WV525KW(3-pack)

ET-WV525BW(1-pack)

B07D3X5PF3(2-pack)
Dimensions (W x H x D)
4.72 x 1.16 x 4.72 inches
5.7 x 2.5 x 5.7 inches
Weight
0.46 lbs
0.94 lbs
Power Source
AC100-240V, 50~60 Hz
AC100-240V, 50/60 Hz
Power
12V DC, 2A
12 VDC, 2A
Certification
FCC, UL
FCC
Processor
Qualcomm IPQ4019 (Quad 716MHz, 4 cores)
Qualcomm IPQ4019 (717 MHz, 4 cores)
Memory
512MB (RAM) + 8GB (Flash)
512MB (RAM) + 4GB (Flash)
Wi-Fi Standards
802.11a/b/g/n/ac – Wave 2,
2×2 MU-MIMO
802.11a/b/g/n/ac – Wave 2, 2×2 MU-MIMO
Ports
RJ45 Ethernet x 2, Power x 1
RJ45 Ethernet x 2, USB 2.0 x 1, Power x 1
AC class*
AC1300 (866 Mbps @ 5GHz, 400Mbps @ 2.4GHz)

AC 2200 (867 Mbps @ 5GHz (1), 867 Mbps @ 5GHz

(2), 400Mbps @ 2.4GHz)

Encryption
WPA2-PSK
WPA-PSK/WPA2-PSK
Connectivity
Bluetooth 4.1, Zigbee, Z-Wave
Bluetooth 4.1, Zigbee
Antennae
7EA (2 x 5GHz, 2 x 2.4GHz, 1 x Bluetooth, 1 x Z-Wave, 1 x Zigbee)
8EA (2 x 5GHz (1), 2 x 5GHz (2), 2 x 2.4GHz,1 x Zigbee, 1 x Bluetooth)
OS Requirements
Android 5.0 or higher, iOS 10 or higher
Android 5.0 or higher, iOS 10 or higher
Temperature (Degrees F)
32-104 °F
32-104 °F
Warranty
1 Year Parts and Labor
3 Year
Parental Control & Monitoring
Via Plume*
TP-link HomeCare
App

Plume*

TP-Link Deco

Compatibility

Works With

SmartThings devices and SmartThings-compatible product*

Compatible product
Note
*Product not supported outside U.S. Not compatible with Samsung Connect Home models ET-WV520KWEGUS, ET-WV520BWEGUS, and ET-WV530BWEGUS.
*AC means that the router has support for the latest 802.11ac networking standard.
SmartThings Wi-Fi, AC1300 means 866 Mbps + 400 Mbps ≈ 1300 Mbps, and AC2200 means 866 Mbps + 866 Mbps + 400 Mbps ≈ 2200 Mbps, and the actual maximum band is lower than that, since you can only choose one band.
*About Plume
Plume is a pioneer of adaptive Wi-Fi driven by the Plume Cloud, a powerful cloud-based control plane, enabling the most advanced, resilient home Wi-Fi solution due to its ability to dynamically adapt and respond to changing network loads and interference. Visit www.plume.com and www.platform.plume.com.
 

The Similarities
Mesh Network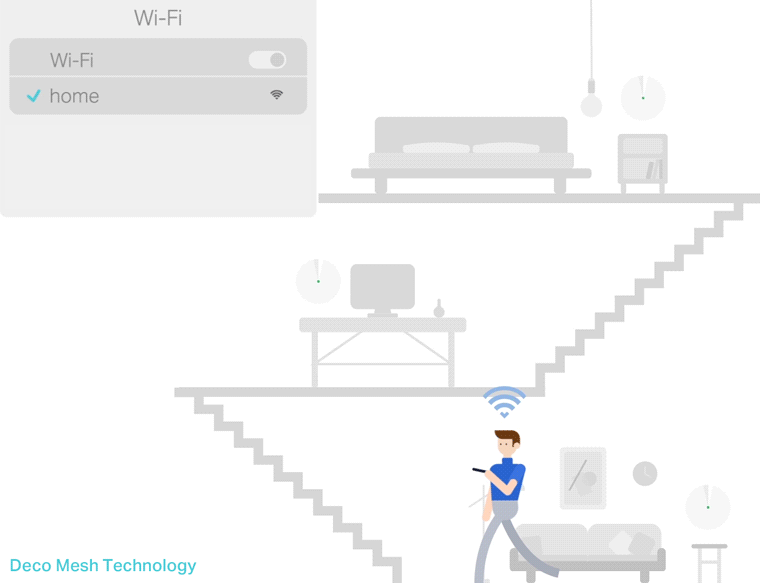 SmartThings Wi-Fi and Deco M9 Plus support 2.4 GHz/5 GHz Wi-Fi and Zigbee HA 1.2. Both of them have two RJ45 Ethernet ports, one for WAN and another for LAN. So, you can use wireless or wired backhaul to connect to your device.
Wired backhaul is a nice option for streaming devices like TV, which require stable and high bandwidth connection.
It may be a minor inconvenience that you can't specifically connect a device to either the 2.4 GHz band or the 5.0 GHz band. The router supposedly chooses the best one by itself. Both packages hide these options to simplify the setup. 
Smart Hub
Both can act as a smart hub. You can control the compatible devices via their app, whether in-home or away-from-home. And you can create automation events for specific scenes: in SmartThings this is called "Automation", in TP-Link Deco it is called "ShortCut".
Operating environment
Both have the same operating temperature, power supply, and method of internet connection. You should place them in open and ventilated environments – just like traditional routers – the hub may overheat if you place it in a closed environment.
Control
Different from traditional routers. Neither options have a web-based UI any more. You can only set up your network via a mobile app, making things a little difficult for someone who usually maintains control via a web-based UI.
Setup
The setup process is very simple – if you want to set up a basic mesh network but don't have ANY networking skills whatsoever, I think this solution will work very well for you.
Deco M9 Plus:
Setup & Automation
 

The Differences
Design
Deco M9 Plus is bigger and heavier than the somewhat sleeker SmartThings mesh Wi-Fi. Deco M9 Plus has one reserved USB 2.0 port (purpose uncertain) and quite a quirky appearance which it has inherited from the Deco M5.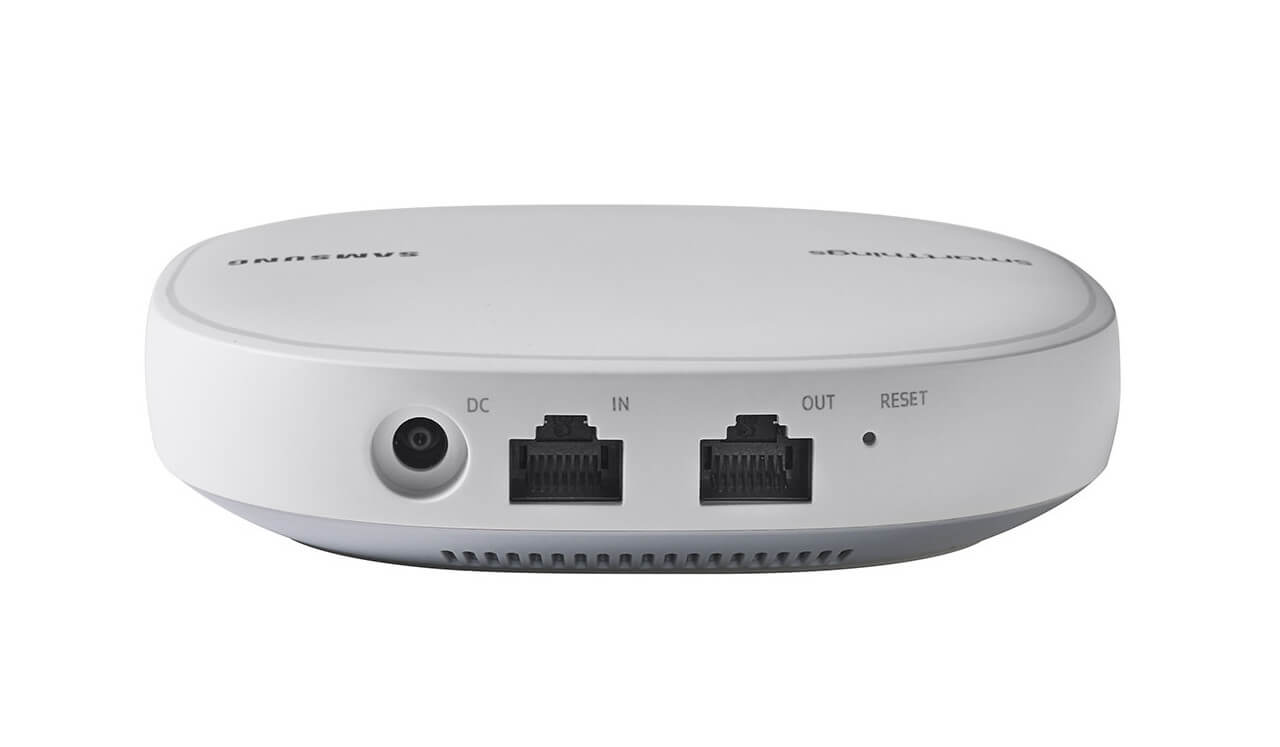 Deco M9 Plus is a tri-band router and SmartThings Wi-Fi is a dual-band router. Compared to SmartThings mesh Wi-Fi, Deco M9 Plus has one more additional 5 GHz Wi-Fi band, but SmartThings Wi-Fi supports Z-Wave, which Deco M9 Plus doesn't.
The Wi-Fi administration of SmartThings Wi-Fi is all provided by Plume, who you may have read about – they received $37 million in funding last year (one of the investors was Samsung) and have a different approach to the mesh networking game. Instead of relying on raw power and size with a big array of antennae (4×4 MIMO like the Orbi) they instead rely on a much smaller form faster and 2×2 MIMO but use cloud-based software "intelligence" to optimize performance.
Guest Network
Deco M9 Plus supports the guest network feature when used in router mode, even with an Ethernet backhaul. However, if you're using the Ethernet backhaul feature, only the primary Deco unit will broadcast on the guest network. There is a rumor that TP-Link are currently working to enhance this feature to allow all nodes to broadcast on the guest network. But currently, TP-Link suggest using the dedicated Wi-Fi mesh backhaul to allow guest network broadcasting at all Deco M9 nodes.
Unlike the guest network of Deco, SmartThings Wi-Fi have a very different approach, using two types of guest account – an account with full network access, but it is necessary to specify which devices that guests can access – for example, the printer, but not the Sonos system or an "Internet only" guest pass. These guest accounts can be set to expire after a certain amount of time or be permanent. From within the app, you can easily "push" the connection information to someone via SMS or email, but that user will still need to copy/paste the password to their device setup.
Compatibility
Deco M9 Plus is compatible with a whole range of smart devices, from smart bulbs and plugs to sensors and thermostats. The products below can be controlled via the Deco app with no additional hub required* and triggered using the Automation and Shortcut features.
*Note: Philips Hue bulbs need their own bridge.
To get completed Deco M9 plus compatible devices
Thanks to prior experience with SmartThings Hub, SmartThings Wi-Fi can work as SmartThings Hub v3. If you already have a SmartThings Hub, to upgrade you will have to remove all automations and devices from your old hub and reconfigure the new hub. SmartThings are really dropping the ball with their upgrades. Be cautious, because some devices are not supported on v3 that are on v2. For example, Samsung cameras.
You can refer to SmartThings Hub v3 compatible devices
Network management
Both are trying to simplify the setup process, removing some advanced config settings that complicate the setup process for all but the most advanced user.
SmartThings Wi-Fi
Most of the network management is controlled by a built-in Plume® integration. It allows you to provide advanced configuration to your wireless connection. The bad news is there are no QOS settings, anti-malware or blacklist features in setting option.
Basic Settings
The SmartThings app is very light on configuration, only showing basic network status, a list of connected devices, and the ability to rename those devices. You can turn SmartThings on/off, and you can enable/disable Internet access for each of the connected devices. For additional configuration, you need to use the separate Plume app.
The Plume app is a very interesting approach to managing a Wi-Fi network, and offers actual configuration, but nothing like the options you get with a Netgear, Cisco, or even Apple product. Other than port-forwarding, IP reservations, and setting up DNS and UPnP, there are no other settings whatsoever. This is more Apple-like than even Apple's current networking options. Supposedly, Plume takes care of everything via their cloud services (which they sell as a subscription with their own branded products – no subscription offered or required with the Samsung product).
It also monitors your speeds throughout the day and has a dashboard to show the most active devices and how much data has been downloaded over the past 24 hrs. This can be helpful if you have a data plan with caps and you need to figure out who to blame!
Plume is much more focused on a visually appealing interface for non-technical people, which makes it very easy to see what devices are connected and see general info about performance (apparently the system automatically tests bandwidth and performance periodically and then reports on the results via the app).
Parental Controls
the integrated Plume allows you to monitor which devices are online, easily reassign them names and assign them to household members. If you have kids and want to put them in internet "time out", you can easily turn off their Wi-Fi access for a period through the app.
Deco M9 Plus
Basic Settings
There is very little that can be customized. You can't set your own IP ranges. You are stuck with a specific "Dynamic" DHCP IP Range, like 192.168.0.X. If you have a very specific IP schema that you wish to retain, you may need to consider the Access Point Mode feature. The product does allow you to assign/reserve IP space for your devices, although customizing the Deco's DHCP range isn't available at this time. However you can configure address reservation for devices within your network; here is the detail: How to configure Address Reservation with Deco?
Antivirus
Deco M9 Plus comes with antivirus and malware detection powered by Trend Micro and a 3-year subscription is included. It is nice, but the notifications are useless, giving just enough information to make the user feel protected but unable to do anything with it.
QOS
Quality of Service configuration options are available via the mobile app. I haven't had any need to mess with this, as bandwidth hasn't been a challenge.
Blacklist
typical option to block clients/devices. Works as expected.
Parental Controls
Seems to work okay. You can have some profiles set for the kids' devices to control usage time.
To extend the Wi-Fi Coverage
At this time the Deco M9 Plus is only sold in a 2-Pack, so if you need 3 or a single Deco unit, that is an inconvenience. Up to 10 Deco units can be used on the same network. As for SmartThings Wi-Fi, they are sold in a 3-Pack or 1-Pack. Link up to 32 routers if larger coverage is needed. 
Summary
SmartThings Wi-Fi
PROS
Great wireless performance
Zigbee, Z-Wave, Bluetooth, IFTTT and Alexa support
CONS
No auto migration from old SmartThings Hub: must unregister then register
No web-based Interface
Network configuration available only in Plume
SmartThings Wi-Fi has a much improved network performance compared to SmartThings Connect Home, but it is still a rather new and untried mesh network product. It's a perfect choice for a smart-home hub, after all, SmartThings are good at that kind of product.
TP-Link Deco M9 Plus
PROS
Great wireless performance
Built-in antivirus protection
Zigbee, Bluetooth, IFTTT and Alexa support
Can create a mesh network
Small form factor design
CONS
No web-based interface
No in-depth configuration available
Lack of Z-Wave
The TP-Link Deco M9 Plus is a solid mesh Wi-Fi solution that simply works, but it has two big defects to stop some people using it: first it has no advanced settings for the router, and second it does not support a lot of smart devices like SmartThings Wi-Fi does. In addition, it lacks Z-Wave, which will be a problem if you have some Z-Wave devices. Put simply, the Deco M9 Plus is a decent mesh Wi-Fi router but not a good smart-home hub.
Verdict
If you are in the market for a new router and want to start setting up smart-home automation, especially with lots of different devices, SmartThings Wi-Fi is a good option since it can function as both the router and hub.
If you are just looking for a mesh Wi-Fi solution, then you should look at products without smart hub functionality built in – like Google Wi-Fi, Orbi or eero – otherwise you will pay for features you'll never use.