The smart thermostat fashion is taking the world by the storm. Not only you can enjoy another smart home element, you can save substantial amounts on your energy bills. The variety of such thermostats on the market is becoming more and more impressive each year. Nest and Ecobee seemed to be the only leaders, but Honeywell is catching up fast.
If you are looking for a fair-budget model, you may be choosing between Nest E and Lyric T6. Let's take a look at their comparison.
Thermostat Design
Nest E and Lyric T6 have completely different designs. Nest has a round shape while Lyric T6 is styled as a keyboard button. Both models are white. To say the truth, these thermostat controllers both look excellent and fit into any décor. In the rare case you don't like the design, you can install the thermostat in a corner, where it's virtually unnoticeable.
Nest E is much smaller than Lyric T6. However, on the big scale of things, they are both small and compact. Some reviewers say that Nest E has a more futuristic design.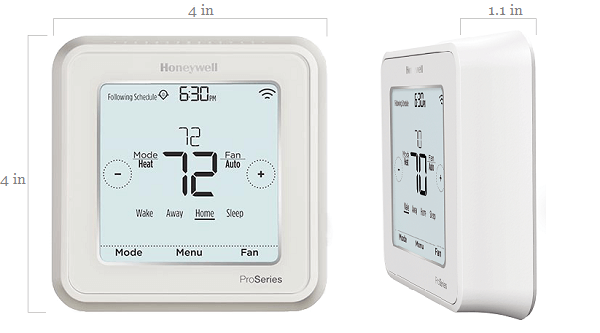 Here is a major difference between the two, which often keeps people from buying the Lyric T6 model.  While Nest E can be installed on your own if you have all the necessary wires already protruding from the wall, Lyric T6 needs professional attention for wiring UWP mounting system. In both cases, installation is rather quick, especially if you take full advantage of the detailed instructions that come in the box.
Professional installation may require more time (waiting for the technician to come) and extra expenses.
Important: C-wire is recommended for Nest E installation. However, the manufacturer claims that this thermostat can work without a C-wire.


Nest E vs Lyric T6: Similarities
Even though different manufacturers make these thermostats, they have many similarities.
Smart Alerts
Both thermostats let you know when they need attention. For example, they advise when it's time to change the air filter or if the temperatures in your home become extreme. Lyric T6 can remind you when your HVAC system is due for maintenance. These features are especially useful for people, who are often away from home.
Temperature Scheduling
Nest is a learning thermostat, which bases the cooling and heating schedule on your activity. You can also use a manual scheduling option to set up the temperatures depending on time or day of the week. Lyric T6 is not a learning thermostat. However, it has the same manual scheduling options for 5-1-1,5-2.
Some users report that Nest E's learning feature is not always ideal and it's better to take advantage of the manual scheduling.
Smart Integration
Both thermostats work with a variety of programs, including Google Assistant, Amazon Alexa, Apple HomeHit, and IFTTT. You don't need to adjust your habits and switch to other devices in order to integrate the thermostat into your lifestyle.
Nest E vs Lyric T6: Important Differences
Even though these two thermostats share a lot of features, they have several key difference, which can help you make the right choice for your home.
Geofencing vs Nest Home/Away Assist
Both thermostats have home/away function to turn on or off the HVAC when you are home or away from home.Lyric T6 uses geofencing which is most common way like other products,but Nest E uses built-in activity sensor – the same things the Nest Learning Thermostat has been using . They adjust the temperatures accordingly. When you are close to home, the thermostat ups or decreases the temperature to make it comfortable by the time you open the door. However, some users complain the Lyric T6 geofencing option doesn't always show the best performance.
You can read this blog: Nest Home/Away Assist to learn more,and you can also refer this article: What is geofencing?
Wi-Fi Connection
Both products are easy to connect to mobile device via WiFi,but Lyric T6 only works with 802.11 b/g/n@2.4GHz home wireless router, and Nest E can also uses 802.11 b/g/n@2.4GHz and 802.15.4 @2.4GHz and 802.11a/n@5GHz.
Nest E offers more Wi-Fi options than its counterpart. However, 2.4 GHz range is the most common option for homeowners all over the world, so the absence of 5GHz for Lyric T6 is rarely a problem.,
Indoor and Outdoor Sensors
Today, Nest offers Nest temperature sensors for its Nest E unit. You can invest in those additional wireless sensors, which can monitor the temperatures in several areas. Then the thermostat can keep the temperatures comfortable where you are . This is important for houses, which have rooms with drastically different temperatures.
Lyric T6 Pro also has an option for sensors,but they are hardwire sensors. Its S/S terminal supports indoor(Part#C7189U1005) and outdoor wired sensors(Part#C7089U1006). These sensors are also optional and require additional expenses. Nest doesn't have an option of outdoor sensors.
Energy Reports



One of the most important features offered by the smart thermostat is energy saving. Energy reports allow the homeowners to make decisions about better energy use. For Lyric T6, Honeywell provides monthly reports if the user signs up for the program. Meanwhile, Nest E offers its energy history report within Nest E,app and Nest web portal.
Cost
The price difference between these two thermostats is about $30 – $40. Nest E is a more expensive option. However, you have to consider installation expenses for Lyric T6, which can shorten the price gap between the two units.
You can also take advantage of the rebates provided by some utility companies. You may save on the purchase or get cashback after the installation.
HVAC Compatibility
Lyric T6 is designed to work with the majority of low voltage heating and cooling systems, at 24 volts. It can also support dual fuel heating systems.
The Nest E is only compatible with one stage of heating, one stage of cooling, and an additional stage of either heating or cooling.  It doesn't support millivolt heaters, solid fuel systems, and baseboard electric heaters that are high voltage (120 or 240V).
 
Nest E
Lyric T6 Pro Wi-Fi
HVAC compatibility

The Nest Thermostat E works with 85% of 24V heating and cooling systems, including gas, electric, forced air, heat pump, radiant, oil, hot water, solar and geothermal.

Heating and Cooling: 1 stage of heating (W1) and cooling (Y1) and a second stage of either heating (W2) or cooling (Y2).
Heat pump: with auxiliary and emergency heat (O/B, AUX)
Fan (G)
Power (C, Rh or Rc)

24 Vac systems;

gas, oil, electric warm air;
hot water coil; gas, oil, Electric Hydronic;
or Steam / Gravity Systems

TH6320WF2003 Up to 3H/2C heat pump and 2H/2C conventional
TH6220WF2006 Up to 2H/1C heat pump and 2H/2C conventional

Power
Built-in rechargeable lithium-ion battery or C-wire
C-wire
Which One Is Better?
Both thermostats are Energy Star certified and can lower your energy bills while decreasing the carbon footprint. These thermostats are very similar. However, Nest E has more features, including additional high-quality room sensors and smart learning option. Nest E is easier to install. It has a winning design. Overall, it seems as if Nest E is a better choice for most homeowners.