The smart thermostat is all about comfort and efficiency.  A smart thermostat works through Wi-Fi technology, which enables you to control the temperature of your home from anywhere. Moreover, it can be controlled with an easy-to-use mobile app.
The smart thermostat is more advanced and efficient than the normal thermostat and helps you in saving energy costs while providing you with the comfort and control you need at your home.
Being a smart device, a smart thermostat can seamlessly connect with other smart devices and home service assistants such as Amazon Alexa, Google Assistant, Apple HomeKit, IFTTT, Samsung SmartThings, and others.
How it works?
Smart thermostats consist of multiple sensors, controllers, and processors that work in coordination to provide desired temperature and humidity. The sensors include temperature sensors, humidity sensors, and occupancy sensors.some thermostat may also have built-in voice command service like Ecobee4, others can work with smart home service we mentioned before.  These sensors take signals from the environment, voice commands, and commands from smart devices, and process those commands to regulate the thermostat accordingly.
Here are a few common use cases of the smart thermostat:
As soon as you turn off lights and sleep, the smart thermostats adjust the temperature to a comfortable range.
When you leave home, the smart thermostat turns off all the HVAC equipment and minimized power consumption.
As soon as you enter the home, the smart thermostat greets you by turning the heating/cooling on.
Smart thermostat can automatically adjust to your daily thermostat settings so that you don't have to give daily inputs.
Key features
A high-quality smart thermostat provides three key features to its users; smart response, control, and insights.
Smart response
Temperature schedule
With a smart thermostat, you can make customized temperature schedules for different circumstances in your home. Moreover, if you are leaving home for a vacation, you can activate Vacation mode to save maximum energy.
Learn from your behaviors
Smart thermostats are quick learners. They learn your habits and quickly adapt to the temperature settings that you prefer at your home and make automatic temperature schedules.
Location trigger (Geofencing)
Geofencing is another cool feature that smart thermostats come with. This feature detects your presence/absence in your home and adjusts the settings for cooling/heating accordingly.
Geofencing helps you in optimizing the efficient use of energy for heating and cooling. For example, if you forget to turn off the heater before going out, you will be pleased to find your heater turned off.
Smart alerts
Smart thermostat detects any abnormal temperature changes at your home and instantly alerts you through notifications. Moreover, it also alerts you in case of HVAC failure at your home.
Voice command service/smart hub
Smart thermostats can be controlled with voice commands. They can also be controlled by smart home assistants such as Amazon Alexa, Google Assistant, and Apple HomeKit.
Control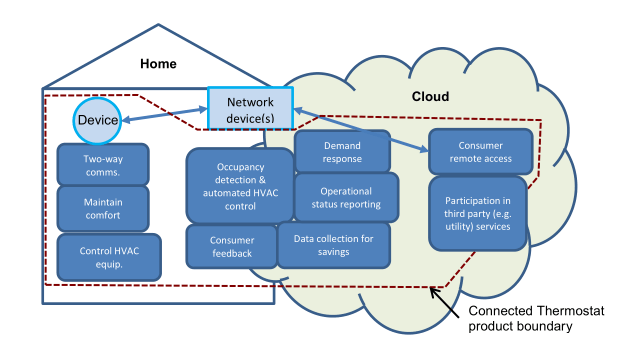 Smart thermostat gives you complete control over the energy consumption at your home for cooling/heating purposes. As smart thermostat is connected to the internet, you can control it through your mobile or any other device with an internet connection.  Here is a quick example for better understanding:
If you are leaving office early, you can alert the smart thermostats to set the perfect temperature for you when you reach home.
Insights for energy consumption
With a smart thermostat, you can visualize the overall energy consumption at your home. You also get daily temperature reports which help you determine the amount of energy that is consumed by your HVAC equipment. Â With accurate facts and figures, you get greater control over your HVAC spending.
Benefits of Smart Thermostat
Optimize the energy consumption for HVAC and complete control on finances.
Desirable temperature at all times.
Mitigate human errors and resultant hazards/losses.
Room for Improvements
As with all the new technological gizmos, the smart thermostat is still evolving and getting better. There are certain areas where it can greatly improve such as:
Universal Compatibility
While smart thermostats support all the popular HVAC systems, they are not compatible with all the systems. Hence, it is advisable to check the compatibility of the smart thermostat with your HVAC system before purchasing one.
Integration with Smart Home Assistants
Smart thermostats have limited compatibility with the smart home assistants. Therefore, it is better to confirm that the smart thermostat of your choice is compatible with the smart home assistant present at your home.
Mobile App and Software
Sometimes, there are bugs in the firmware of the smart thermostat which results in the glitches in the performance. Same is the case with the mobile app used to control the smart thermostat.  You can overcome these problems by regularly updating your software.
Accuracy Rate
Some users complain about the accuracy rates of the temperature controls. Be advised that the even the highest quality products like Energy Star certified thermostat have an accuracy rate of ≤Â?2.0 °F.
Should you Really Buy Smart Thermostat?
So the question is become to how long to reclaim our investment on smart thermostat.
According to Energy Saver Guide 2017, HVAC consumes up to 40% of your total energy consumption at home. The guide further suggests that by changing your thermostat settings to 7°-10°F on a daily basis, you can save up to $10 off your annual HVAC spending.  Moreover, the percentage of savings increases in the homes where the climate conditions are relatively milder.
Considering these numbers, you can feel that a smart thermostat can take care of small changes in your HVAC settings without bothering you, and as a result, save for you a considerable sum of money by the end of the year.
This implies that you will certainly get the returns on your initial investment, however, the time of returns depends on the climatic conditions of your area along with your temperature preferences at home.
Lastly, if you are ready to upgrade to a smart thermostat, you should confirm that the model you buy has the features we mentioned in the previous sections. With so many companies invading the market with a myriad of smart thermostat models, it is important that you make the right choices. Therefore, it is important that you invest in a reputable brand that provides durable and guaranteed products.